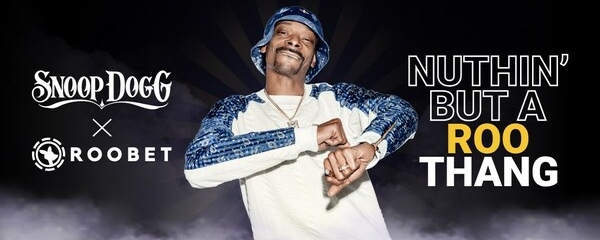 Rootbet scores partnership with Snoop Dog
Rootbet, one of the world's fastest growing crypto casinos, has signed a partnership with music legend and entrepreneur Snoop Dogg. The international star, who has been appointed Chief Ganjaroo at Roobet, will be also work with Rootbet's parent company Raw Entertainment as they both seek to transform the future of the online entertainment industry.
The partnership will bring together Snoop's vast global reach and industry expertise with Roobet's innovative technology and eye for the crypto frontier. As a well-established denizen of the metaverse and collector of digital real estate, the partnership represents Snoop's latest venture into the web3 space. "Since day one, our mission has been to push the boundaries of what a gaming brand can be, and Snoop's a real visionary. Together, we're going to truly revolutionize the online entertainment experience. Our community means everything to us, and we're committed to providing them with the most exciting and immersive online casino experience out there. With Snoop by our side, the future of digital entertainment is looking brighter than ever. Get ready!", said Roobet co-founder Matt Duea. Together, Snoop and Roobet are reimagining the way the worlds of entertainment and iGaming intersect, combining Snoop's three decades of industry expertise in show business and Roobet's innovation and passion for pursuing fun on the digital frontier.
"Turns out, I've been a kangaroo this entire time," said Snoop Dogg. "These guys are doing something different. This partnership just feels natural, and we're going to blaze a trail for the future of online entertainment. I been sayin' Roooooo for a long time now - they bring the ultimate player experience, we share the love of doing new things, and we care about our fans - so together we're gonna change the game and do it better than it's ever been done."
To celebrate the partnership's launch, Roobet and Snoop are planning ways to get the whole community involved, including: a $100,000 cash prize raffle with grand prizes including meet-and-greets, backstage passes to Snoop's shows, exciting welcome offers for new users, and much more. Eligible participants can visit roobet.com to join, or roobet.fun which is coming soon.
Visit website